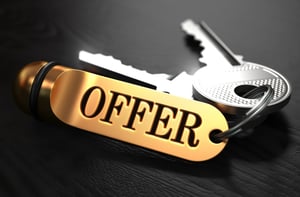 Don't have a FedEx or DHL account, but still want to display the landed cost in your store? No problem! Use Yakit in "Quotes Only" mode, to display the landed cost to your international customers at checkout. You can then print and ship your packages using your own method / shipping software. If you are a Shopify merchant, you will need to get Custom Calculated Rates enabled for your store to show the Yakit landed cost. Pricing starts at just $0.50 per quote. Click here for full pricing information.
1. Install our Free App We currently integrate with Shopify, Miva and WooCommerce. Install our App on your store, to set up Yakit rates. During the installation, you will be required to create a new Yakit account. If you've already created a Yakit account previously, please make sure to log into your existing Yakit, rather than creating a new one. For Shopify customers, make sure to add a calculated rate to your international shipping zone, with Yakit as your carrier.
2. Calibrate your Shipping Quotes Your account will be initially configured with default rates. We recommend using the Y-Rate Calculator and getting a shipping quote for your typical shipment. This will give you an idea of what the default rates are. This is important as the Duties and Taxes are based partially on the shipping cost. Then, contact us via Y-Chat and tell us what the difference is. We will configure your account's rate card accordingly.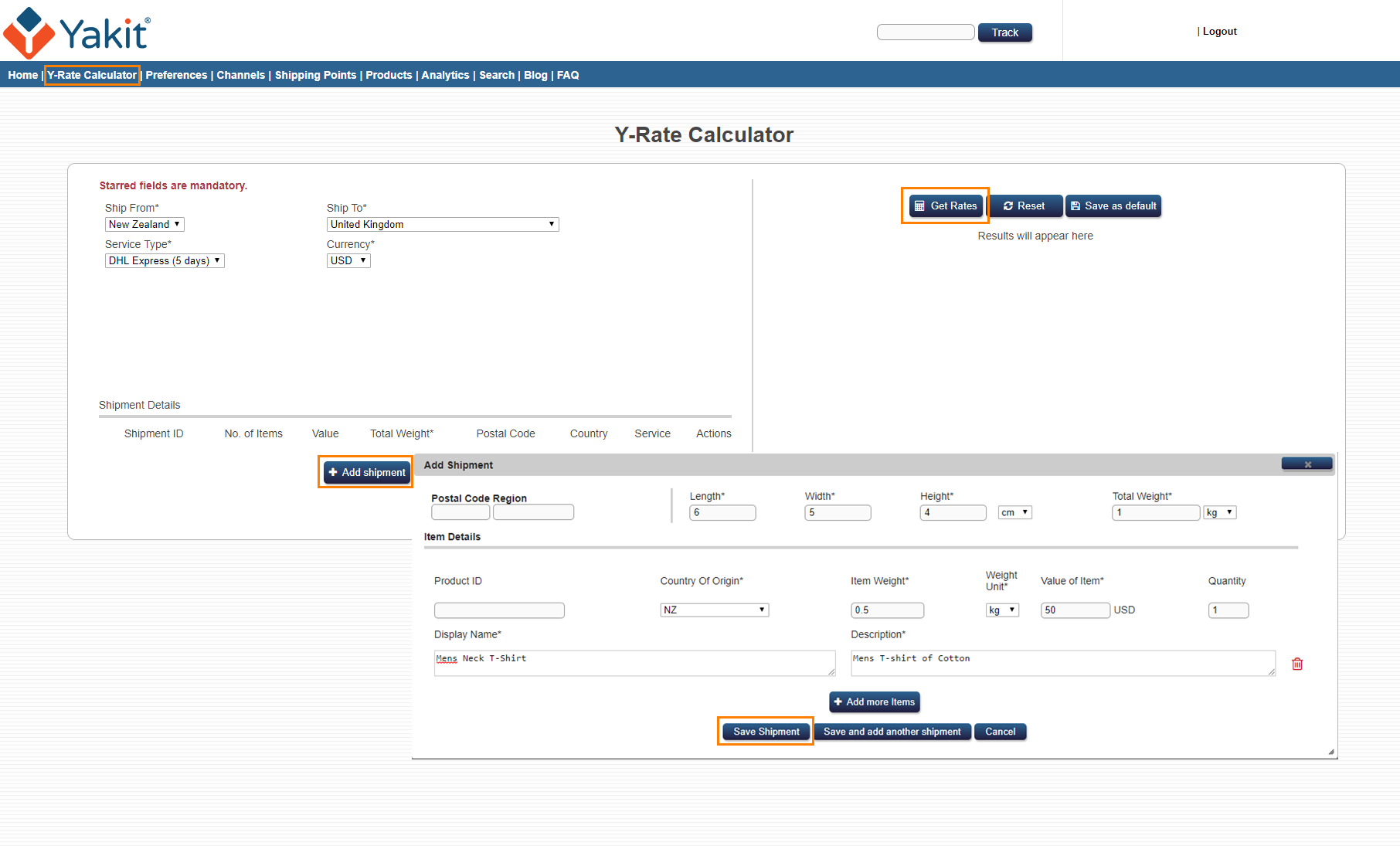 3. (Optionally) Offer discounted or Free shipping You may do so since "Free shipping" does increase your shopping cart conversions. Use our Markup/Markdown settings. Simply go to your Yakit Channels page, click on the "Free/Flat Shipping" button. From there, set a Markup/Markdown value. (For Markdowns, simply prepend the value with a "-" sign). You can apply either a percentage-based, or flat Markup/Markdown.

You can even launch a Free Shipping Promotion using the Free Shipping settings to display free shipping at checkout, based on a order value threshold you designate. Click here to find out more about using Free Shipping Promotions to boost your conversions.
4. Name your Shipping Method On your Yakit Channels page, click on the "More Settings" button on the far right. From there, you can configure your Shipping Method naming convention, that you display on your site. For example, if you want to display the wording "International Shipping (7-14 Days)" at checkout, simply enter that in the Label field and press 'Update' to save.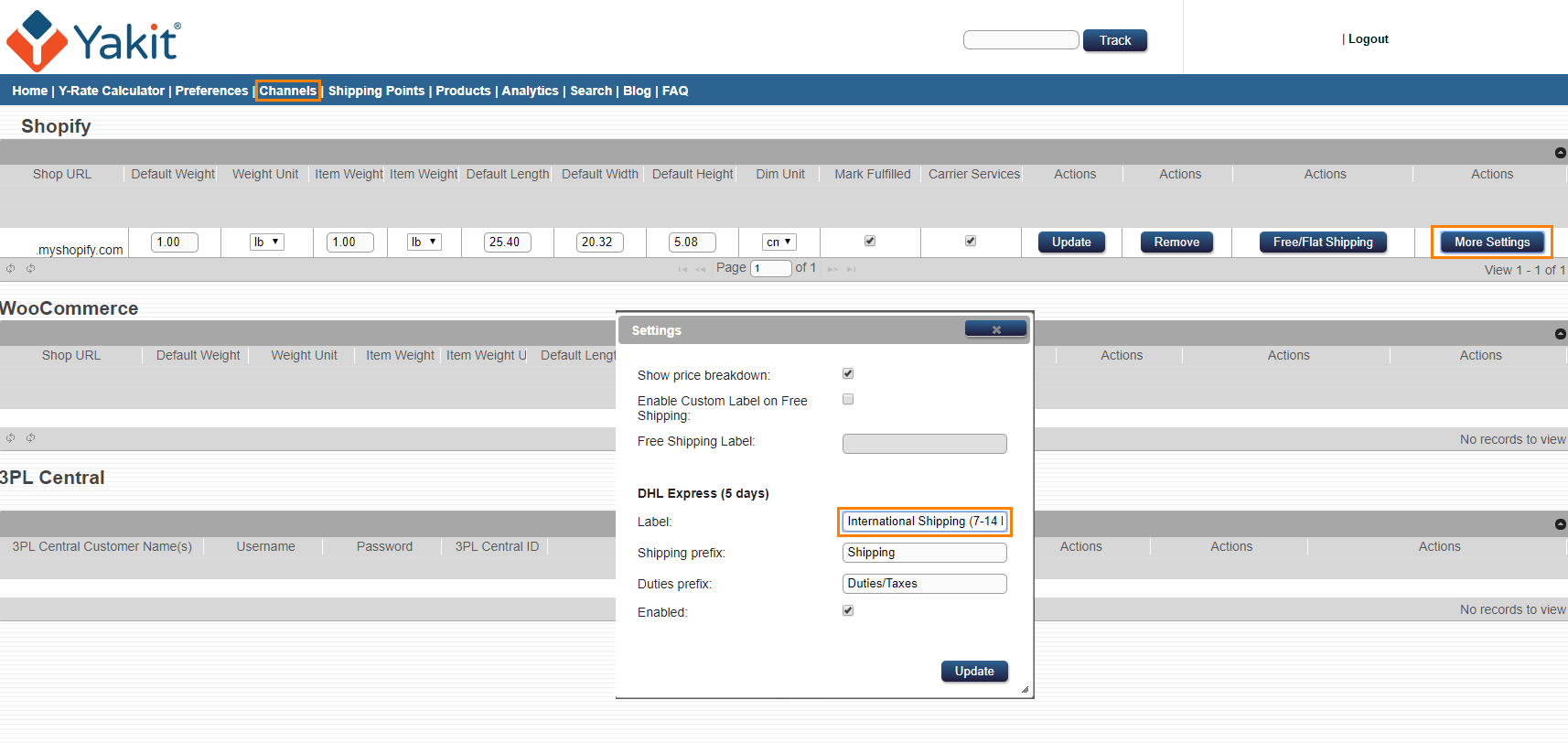 That's it! Once you've completed the above steps, you'll be able to start displaying the landed cost to your international customers right away. The shipping quotes will be displayed according to the Markup/Markdown settings that you've set in Step #2, and the exact duties/taxes will be calculated automatically by our app, based on the customer's shopping cart and shipping address.
Once you start getting orders, you can simply start fulfilling them using your own carrier software. As a reminder, you will need to ship them using a "DDP" service, since your customers will be pre-paying you for the duties/taxes up front, along with their order.
As always, help is just a
click away and we look forward to hearing from you.