If your online business is starting to see more and more orders being purchased from Indian consumers, you are not alone. The Indian E-tail / B to C market is growing at double digit percentages year after year. Indian consumers are making online purchases in the high end retail fashion and accessories, health and beauty products and electronic goods. More and more purchases are being made online with explosive growth forecast for the foreseeable future.
Indian consumers are looking for quality and consistency when purchasing their items online and that includes the delivery of those goods in both a timely fashion as well as not being surprised with additional fees for duty and taxes. The Indian consumer marketplace is fraught with requirements that purchasers must adhere to, in order for a successful delivery to take place. If you are simply using a postal or express delivery mechanism and relying on the end consumer to take of duties and taxes when the item arrives, there is a good chance that you will end up with a disappointed customer.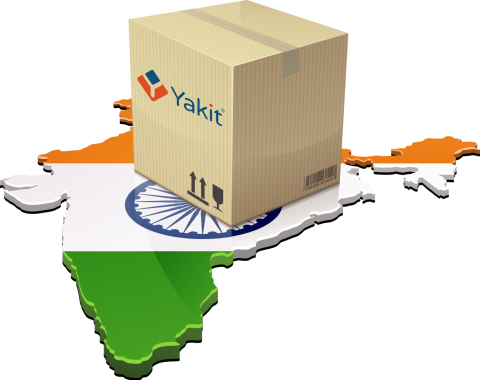 Yakit has amassed the most concise duty and tax calculator allowing E-tailors and online marketers to calculate not only their shipping costs, but the duty and taxes that will need to paid in order to achieve successful deliveries to the door of your Indian consumer. Yakit has stitched together the ability to make your Indian growth projections come to realization, all at the push of a button.
If you are selling high end fashion & accessories, consumer electronic item's or health and beauty products into India, utilizing Yakit is the way to guarantee success and make sure your end consumer is telling all their friends via social media about how great the delivery experience was. Whether your online store is located within Europe, United States or China…Yakit has built the logistics platform that will allow you to ship your orders to India in the most cost effective manner and provide the piece of mind that each and every order will be delivered hassle free.
India, is a challenging marketplace and companies that can obtain consumer confidence and traction within this important market will see their orders and profit soar. Yakit was built to provide the ultimate consumer experience within India creating an insured and guaranteed Business to Consumer delivery platform…which will allow you to focus on your marketing efforts while Yakit takes care of the rest.
Drop shipping from your Chinese manufacturer to your Indian consumers? Yakit has you covered. Pulling an order from your London based fulfillment partner, for an Indian end consumer sale? Yakit has you covered. Starting to see increased Indian purchases via your U.S. based online store? Yakit has you covered.
No other platform has made it easier to service the growing Indian Marketplace than Yakit. From click and point label creation, to final mile delivery and all the steps in between, if you want your business to grow into the massive E-tail environment that is India, the first stop should be Yakit.