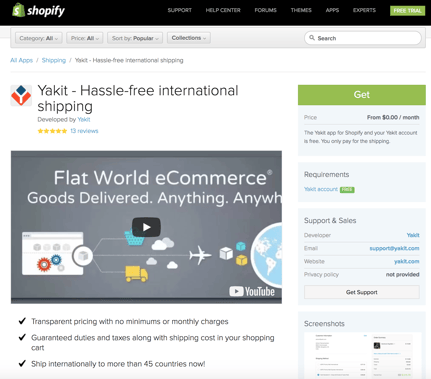 Shopify merchants, wanting to sell and ship their products globally, can use the best-in-class Yakit App for Shopify.
With this app, merchants can seamlessly integrate Yakit's world class cross-border software and logistics right into their Shopify shopping carts, in a matter of minutes. The Yakit rates (exact landed cost) are shown as shipping options for each international order - including the guaranteed duties and taxes! You can also use your Yakit settings to mark up (or mark down) your shipping rates, as well as set "Free Shipping" thresholds, so that you can offer 'free' shipping for orders over a certain value. Check out this blog to see how to manage the Yakit shipping rates that you display on your site.
The free Yakit app can be installed from the Shopify App store by clicking on the following button. If you don't have a Yakit account, the App installation will ask you to register. If you already have one, it will link your accounts.
Existing Yakit customers on Shopify can install the app and link your existing Yakit account to your store. Try our great app and a have a hassle-free international shipping experience, risk free. We have no contracts, or minimum volume requirements. Simply pay as you go.
Here's a short video on how Yakit for Shopify works.
When fulfilling your orders through Yakit, our intelligent routing and hassle-free shipping experience (all you need to do is print labels) will get your shipments to your overseas customers securely and quickly, duties/taxes prepaid, fully tracked and insured... which will improve your conversions and satisfaction (LTV) dramatically.
Once you have installed the Yakit App and created your Yakit account, here are some instructions on setting up Yakit rates in your Shopify store :
For Yakit to provide real-time landed cost rates in your shopping cart to your international customers, you will need to have "Carrier-calculated shipping" with your Shopify plan. This is included free of charge with the Advanced Plan but also available for the Basic and Standard plans for an additional $20/month. You can contact

Shopify

via chat to have this feature added to your plan (it only takes a couple minutes).
Please make sure that all your products have a valid weight associated with it. Our recommendation for many products is for you to set up weights for all your products in Shopify with the dimensional weight (rather than the 'scale' weight), so that you quote your customer based on the size of the package that your product ships in. You can get a dimensional weight of a package by multiplying the L x W x H (in inches) of the packaging that it will ship in, and dividing that by 136. That will give you the dimensional weight of that package (in lbs).

Once you've confirmed that you have Carrier-calculated shipping , verified your product weights, and are ready to set up your international shipping zone, go to Shopify -> Settings -> Shipping. If you do not have an international shipping zone yet, go ahead and create one, by clicking "Add shipping zone". From there, you can name your international shipping zone, add countries (we recommend selecting "Rest of world", as Yakit will only show rates to customers from countries supported by Yakit), add a Calculated Rate, and select Yakit as the carrier for that Calculated rate. Once you are finished, hit Save, to save your international shipping zone.

To test it out, simply go to your store, add a product to your cart and check out. For the shipping address, you can use any international address (ex. Canada, Australia, UK, etc). Then, when you hit "Continue to shipping method", under Shipping Methods, you should see Yakit rates! Below is an example checkout screen. You can customize the wording used for the shipping methods from your Yakit settings any time.

Note : All Yakit shipments require the recipient's telephone number. We recommend that you make the Phone Number field mandatory at checkout, in your Shopify store. To do this, go to Settings -> Checkout, and under Form Options, mark the "Shipping address phone number" section as 'Required'.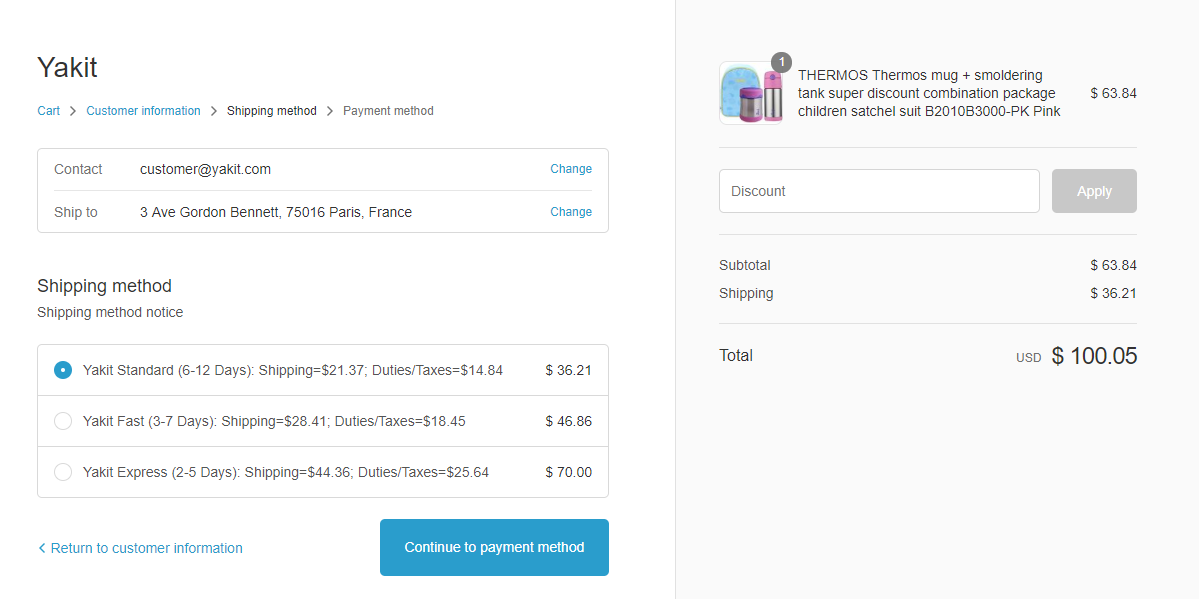 Next, to access your Yakit settings, simply go to Shopify -> Apps, and click on the Yakit app. This will take you to the Yakit Shipping tool.
Under Preferences, you can upload your user signature file, set your printing preferences and printer type, and also, register your payment method. This will be your default payment method when fulfilling shipments from Yakit.
Under Channels, you can set your default weight and dimensions. These are the 'default' dimensions that your shipments will be imported into Yakit with. Please make sure to always update the dimensions to the actual dimensions of your shipment before you print your shipping labels, to make sure there aren't any discrepancies later.

"Mark fulfilled" means, when you dispatch a shipment from Yakit, the order will automatically be marked as Fulfilled, in your Shopify, which will trigger a shipment confirmation email to your customer, containing the Yakit tracking link for their shipment. It is recommended that you enable this option.
"Carrier Services" means, that (when enabled), real-time Yakit rates will be shown to your international customers when they check out from your store. As a reminder, you will need to have Shopify's "Carrier-Calculated Shipping" option with your Shopify plan, in order get the real time rates. It is recommended that you enable this option.

"Free/Flat Shipping" is where you can add shipping markups (or markdowns). Please make sure that you set these from Yakit (instead of Shopify). You can set your markups / markdowns by service / country. You can also set Free Shipping thresholds here (this can really help boost conversions). Feel free to read more information about these settings here.
"More Settings" is where you can control the name of the Shipping services that the customer sees in their shopping cart. You can also enable/disable services here. For example, if you wish to disable Yakit Standard for example, you can de-select the Yakit Standard option from this More Settings window, and Yakit Standard rates will no longer be served on your site.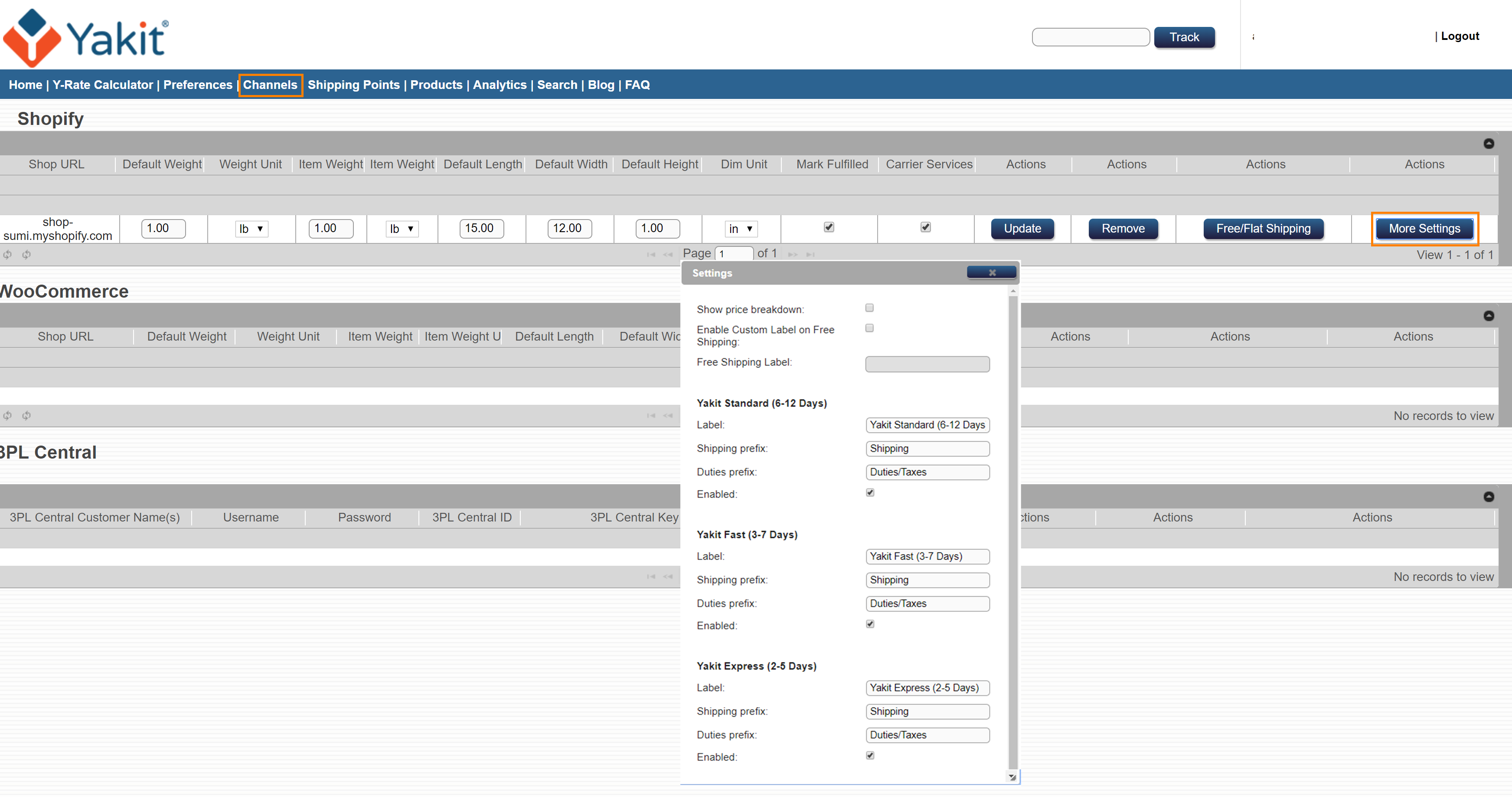 As always, we would love to get your feedback. Feel free to reach out to us on

if you have any questions or comments.