Yakit for ShipStation - the best logistics for the best platform
Now, you can use the Yakit App with your ShipStation shipping tool to boost eCommerce revenue.
Use Yakit to calculate and display the exact landed cost in your shopping cart, to your international buyers. Print labels and ship your orders from ShipStation.
You will be shipping via the Yakit Hub - hence you will send your international shipments via your preferred domestic carrier. This mode of shipping will support your Yakit Standard and Yakit Fast shipments only (your FedEx International DDP shipments must still be shipped via your Yakit shipping tool).
Pricing and Installation steps are below.
Prerequisites
Yakit
You can sign up for Yakit by installing the best-in-class Yakit App for Shopify by clicking here.
ShipStation
You will also need a ShipStation ("SS") account. If you don't have one, click here to get a free 30-day trial. Currently only ShipStation v2 is supported by Yakit.
Pricing
Yakit
You can use Yakit in App+Shipping mode, where you use our international diverse carrier logistics (we also have great rates for your domestic shipping!) or in App+Labels mode, where you use your own DHL Express or FedEx International billing accounts (and just pay us for each label).
Yakit pricing is linked here.
ShipStation
If you already have a ShipStation subscription, there are no additional charges to use it for Yakit shipping.
ShipStation platform pricing is linked here.
Steps to get started
1. Get SS API Key and Secret
Go to: https://ss2.shipstation.com/#/settings/api (first part of the URL may be different for you). If you don't have API keys already, please generate them. You will need to copy and paste the API Key and API Secret strings into your Yakit Channel's page later.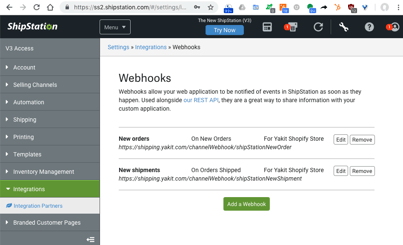 2. Set up SS Webhooks
Go to: https://ss2.shipstation.com/#/settings/integrations/Webhooks . From there, add the following two Webhooks:
a) "New orders" "On New Orders" "<store_name>". (Note: You must set up webhooks for each specific store. "All Stores" will not work.)
"https://shipping.yakit.com/channelWebhook/shipStationNewOrder"
b) "New shipments" "On Orders Shipped" "<store_name>" "https://shipping.yakit.com/channelWebhook/shipStationNewShipment"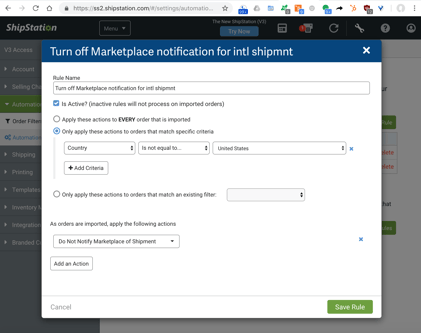 3) Set up a ShipStation automation rule - so that your buyers only get one "fulfilled" email notification (from Yakit).
a) Go to: https://ss2.shipstation.com/#/settings/automationrules.
b) Rule Name = "Turn off Marketplace notification for intl shipment"
Is Active? = Yes (check the box)
c) Only apply these actions to orders that match specific criteria: "Country" "Is not equal to" "United States"
d) As orders are imported, apply the following actions: "Do Not Notify Marketplace of Shipment"
e) Save the Rule.
4) Disable automatic international address correction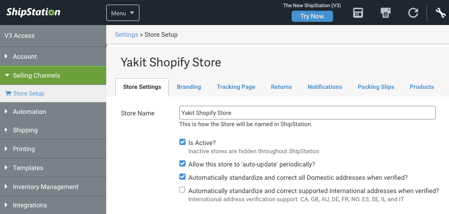 This is needed because Yakit will automatically change the Ship to address to the nearest Yakit Hub and International address correction will interfere.
Note that Yakit does its own international address verification and correction.

5) Enter API Key/Secret in Yakit
Go to your Yakit Channels page: You will see the ShipStation settings towards the bottom of the page. Enter the API Key and API Secret, then press Update to save.
6) Add a markup to your Shopify channel in Yakit, so you can collect 0th mile costs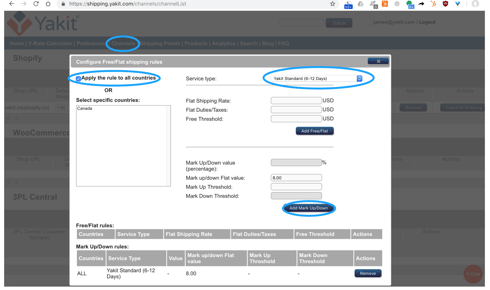 With this integration, since you are paying for the 0th mile shipping (shipping to the nearest Yakit Hub), you can mark up the Yakit shipping rate shown to your buyers to include this amount (or a percentage % amount) so as to be net neutral when it comes to your shipping cost.
You can do so from your Yakit Channels page as shown here.
Be sure to check your "Margins" in your Yakit Shipping Analytics page periodically.
You are now ready to process your international Shopify orders via ShipStation.
If you would like to test the configuration to make sure everything is working well, do the following:
1) Create a test order from your Shopify Store.
2) Pull orders in ShipStation. If it is an international order, the Ship-To address would have been changed to the Yakit Hub address. Print the "domestic" label using your preferred carrier - eg USPS Priority Mail provided by ShipStation (they have great rates!)
3) Your Shopify orders will be shown on the Yakit dashboard along with the 0th mile tracking from your ShipStation shipment that you just printed.
4) That's it. You can now delete the test order.
Note : If this were a real order, you can just give it to your domestic carrier and it will be on its way to your domestic or international consignee. You can see the tracking on your Yakit shipping dashboard, under Dispatched Shipments. Your buyers will get a regular Shopify email - with their Yakit shipment ID and tracking link.
Questions? Email us at support[at]yakit.com or click on

.